Chairman Frank D. Lucas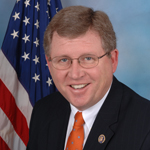 I am honored to serve as the Chairman of the Agriculture Committee. I have been a part of this committee since I was first elected to Congress in 1994, and I am proud to represent my home state of Oklahoma in this leadership role.
Agriculture is the backbone of Oklahoma's economy, and my purpose in Congress remains to make certain that our farmers and ranchers have a strong voice in Washington.
Oklahoma is best known for its vast horse and cattle ranches and for its rolling wheat fields. We're the fifth largest producing state in the nation for both cattle and wheat. However, through the years, the agriculture community has grown to include everything from peanuts to peaches to poultry and pork. Although most of Oklahoma lies in the Great Plains, the state boasts more than 6 million acres of forestland, which are used for commercial timber production.
As a lifelong farmer from this diverse, agricultural state, I have lived the real world challenges farmers face across the country. I will continue to work hard for the livelihood of rural America and to make sure that those who provide us with a safe and abundant food supply have the necessary resources to thrive. I look forward to using my experience and perspective as a producer to help shape our nation's agriculture policy.